la maison rouge
So in Paris, the first Sunday of the month is free museum day, where  all the city's museums are gratis. Since I have been here for weeks and have yet to visit a single one, after brunch we decided to walk all the way to La Maison Rouge in the 12th. I was feeling very lazy after stuffing my face with all sorts of breakfast yummies, and almost opted for a nap, but Jill pushed since I hadn't been to one museum and it was free, and I'm glad we went.
Of course in Malo form and fashion, it was a foundation and not a museum, so it wasn't free. But after walking for an hour, we forked over the 7 euros each to see the three exhibitions. One I liked, one I laughed and one I was just meh. (That was the ethnic headdress one.)
Let's start with the one I liked.
jean de maximy, suite inexacte en homologie singulière (1968-2005)
12 June – 26 September 2010
When Jean de Maximy (b. 1931) exhibited at the Musée d'Art Moderne de la Ville de Paris in 1971, he was far from imagining that the work he showed would not be finished for another 40 years. This ink drawing, which he began in 1968, extends over hundreds of 50 x 60cm sheets. Geometric figures move through a romantic landscape towards a distant horizon. Elsewhere they appear in an enclosed, labyrinthine space that is redolent of Piranesi's prisons. The frieze that will run for some sixty metres through the gallery spaces around the patio will plunge visitors into a mysterious world of constant metamorphosis.
This was just fucking impressive. Huge. Imagine spending almost 50 years crosshatching with a pen on a paper that's nearly 200 feet long. It looks like a black and white acid trip. It incorporates geometric shapes and landscapes and is amazingly shaded. Some parts even look like a photograph. It was dope to look at it both up close and from a distance.
And then there was the one that had me scratching my head…
peter buggenhout, it's a strange, strange world, Sally
12 June – 26 September 2010
After the first showing in Paris of a work by Peter Buggenhout (b. 1963 in Belgium) for the Mutatis Mutandis exhibition in 2007, la maison rouge now presents the artist's first solo show in France. Peter Buggenhout transforms discarded material, reclaimed objects and organic residues into sculptures. Both repelling and compelling, these autonomous, solitary, indefinable shapes are as much miniature universes as they are parts of a fantasy macrocosm. They are the "archaeological finds of the future." An important group of works gives insight into the artist's singular world. Amorphous and escaping classification, three categories of sculpture are represented: those covered in dust (The Blind Leading the Blind) with four large works, an astonishing in situ installation of dust in a 120 sq m/ 1,300 sq ft room, and works impregnated with animal blood (Gorgo) or made from entrails.

So in case you missed that, he makes art with found objects, dust from vacuum cleaners, blood and pig entrails. Yup. I mean, how can you pass that up? How often can you hear something like that and say, "Oh that old trick again?"
The first installations Jill nailed on the head when she said, "They look like dirty air conditioning filters." Pretty much. Look, I definitely wouldn't claim to be the art dude, but it was one of those "really, how the fuck does this get in any exhibits, let alone called art" moments. I couldn't take any pics (I had got in trouble for writing notes looking at the de Maximy drawing, but maybe that was just my pen that made them nervous…) but here's some from the foundation's site:
This gem took 6 years to pull off:
Then I went into a room to see his sculptures made of pig intestines. Jill waited upstairs and I took advantage of the wandering guard who was sneaking in calls to his shorty on his cell phone to take a few pics.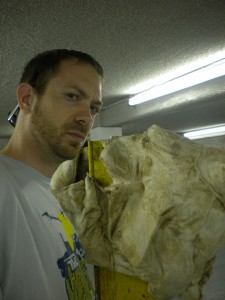 Art. Art?
(<— insert diatribe rant about the definition of, labeling of and/or making of art, here—>)
So we walked home and watched Lost in Translation.