Books & Resolutions
So I took a little trip home to hang with the fam for the holidays. One of the things I wanted to do was catch up on some reading. Being the end of year and all, I thought "Best Of" lists from Longform and LongReads were two good places to start. I finished the LongForm's Top 10, and am still making my way through LongRead's Top 10.
As usual I came back with a grip of new books to read.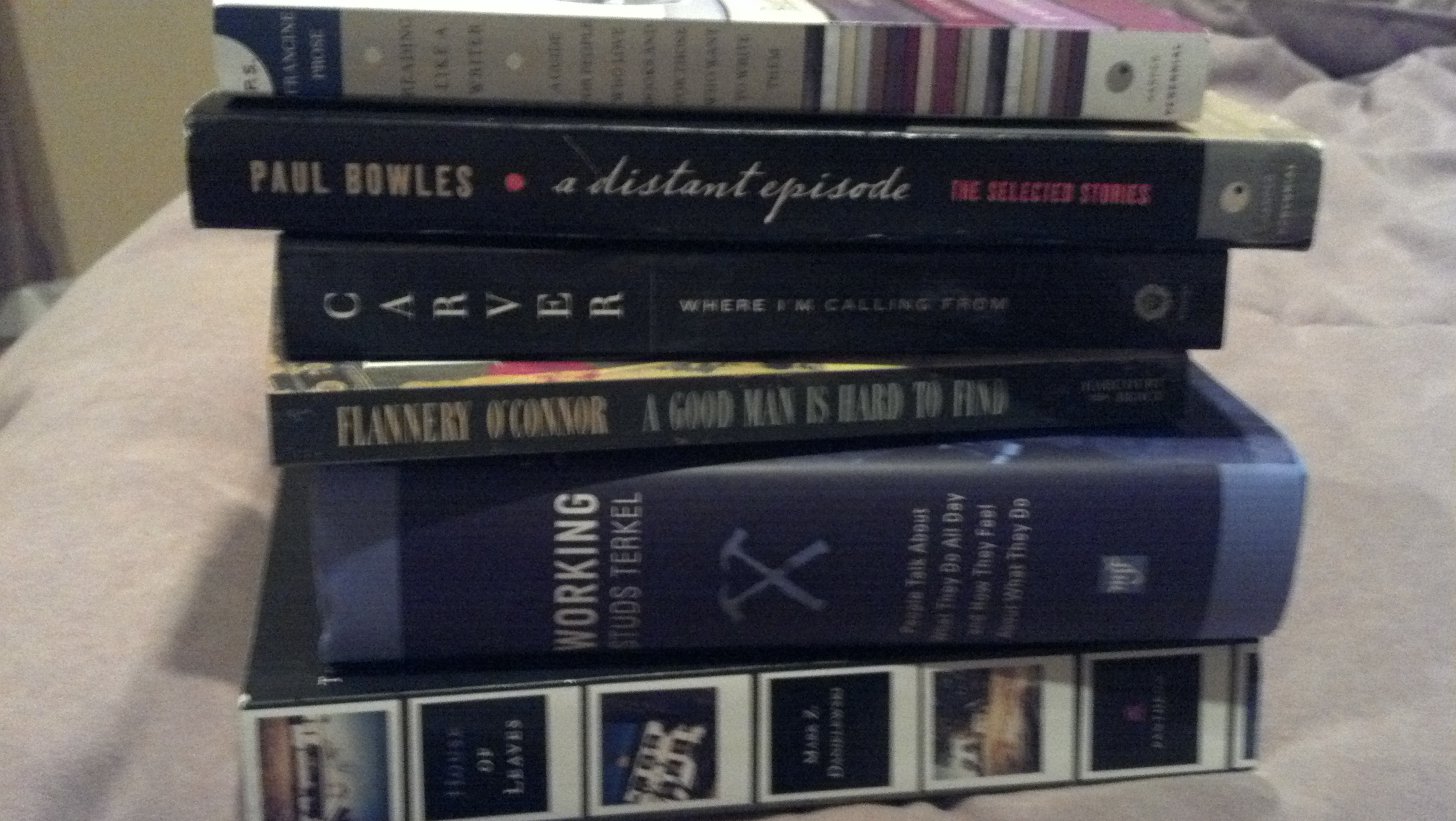 For Christmas my sister gave me House of Leaves by Mark Z. Danielewski. This book looks fucking rad. It was written by the brother of Poe, and looks fascinating. It is written with crazy footnotes (a la Pynchon) and is filled with random boxes of text on pages, with certain words in different colors throughout the text. And just read some of the reviews:
Amazon.com Review
Had The Blair Witch Project been a book instead of a film, and had it been written by, say, Nabokov at his most playful, revised by Stephen King at his most cerebral, and typeset by the futurist editors of Blast at their most avant-garde, the result might have been something like House of Leaves. Mark Z. Danielewski's first novel has a lot going on: notably the discovery of a pseudoacademic monograph called The Navidson Record, written by a blind man named Zampanò, about a nonexistent documentary film–which itself is about a photojournalist who finds a house that has supernatural, surreal qualities. (The inner dimensions, for example, are measurably larger than the outer ones.) In addition to this Russian-doll layering of narrators, Danielewski packs in poems, scientific lists, collages, Polaroids, appendices of fake correspondence and "various quotes," single lines of prose placed any which way on the page, crossed-out passages, and so on.
Now that we've reached the post-postmodern era, presumably there's nobody left who needs liberating from the strictures of conventional fiction. So apart from its narrative high jinks, what does House of Leaves have to offer? According to Johnny Truant, the tattoo-shop apprentice who discovers Zampanò's work, once you read The Navidson Record,

For some reason, you will no longer be the person you believed you once were. You'll detect slow and subtle shifts going on all around you, more importantly shifts in you. Worse, you'll realize it's always been shifting, like a shimmer of sorts, a vast shimmer, only dark like a room. But you won't understand why or how.

We'll have to take his word for it, however. As it's presented here, the description of the spooky film isn't continuous enough to have much scare power. Instead, we're pulled back into Johnny Truant's world through his footnotes, which he uses to discharge everything in his head, including the discovery of the manuscript, his encounters with people who knew Zampanò, and his own battles with drugs, sex, ennui, and a vague evil force. If The Navidson Record is a mad professor lecturing on the supernatural with rational-seeming conviction, Truant's footnotes are the manic student in the back of the auditorium, wigged out and furiously scribbling whoa-dude notes about life.
Despite his flaws, Truant is an appealingly earnest amateur editor–finding translators, tracking down sources, pointing out incongruities. Danielewski takes an academic's–or ex-academic's–glee in footnotes (the similarity to David Foster Wallace is almost too obvious to mention), as well as other bogus ivory-tower trappings such as interviews with celebrity scholars like Camille Paglia and Harold Bloom. And he stuffs highbrow and pop-culture references (and parodies) into the novel with the enthusiasm of an anarchist filling a pipe bomb with bits of junk metal. House of Leaves may not be the prettiest or most coherent collection, but if you're trying to blow stuff up, who cares?

From Publishers Weekly
Danielewski's eccentric and sometimes brilliant debut novel is really two novels, hooked together by the Nabokovian trick of running one narrative in footnotes to the other. One-the horror story-is a tour-de-force. Zampano, a blind Angelino recluse, dies, leaving behind the notes to a manuscript that's an account of a film called The Navidson Report. In the Report, Pulitzer Prize-winning news photographer Will Navidson and his girlfriend move with their two children to a house in an unnamed Virginia town in an attempt to save their relationship. One day, Will discovers that the interior of the house measures more than its exterior. More ominously, a closet appears, then a hallway. Out of this intellectual paradox, Danielewski constructs a viscerally frightening experience. Will contacts a number of people, including explorer Holloway Roberts, who mounts an expedition with his two-man crew. They discover a vast stairway and countless halls. The whole structure occasionally groans, and the space reconfigures, driving Holloway into a murderous frenzy. The story of the house is stitched together from disparate accounts, until the experience becomes somewhat like stumbling into Borges's Library of Babel. This potentially cumbersome device actually enhances the horror of the tale, rather than distracting from it. Less successful, however, is the second story unfolding in footnotes, that of the manuscript's editor, (and the novel's narrator), Johnny Truant. Johnny, who discovered Zampano's body and took his papers, works in a tattoo parlor. He tracks down and beds most of the women who assisted Zampano in preparing his manuscript. But soon Johnny is crippled by panic attacks, bringing him close to psychosis. In the Truant sections, Danielewski attempts an Infinite Jest-like feat of ventriloquism, but where Wallace is a master of voices, Danielewski is not. His strength is parodying a certain academic tone and harnessing that to pop culture tropes. Nevertheless, the novel is a surreal palimpsest of terror and erudition, surely destined for cult status.

From Library Journal
When Johnny Truant attempts to organize the many fragments of a strange manuscript by a dead blind man, it gains possession of his very soul. The manuscript is a complex commentary on a documentary film (The Navidson Record) about a house that defies all the laws of physics. Navidson's exploration of a seemingly endless, totally dark, and constantly changing labyrinth in the house becomes an examination of truth, perception, and darkness itself. The book interweaves the manuscript with over 400 footnotes to works real and imagined, thus illuminating both the text and Truant's mental disintegration. First novelist Danielewski employs avant-garde page layouts that are occasionally a bit too clever but are generally highly effective. Although it may be consigned to the "horror" genre, this novel is also a psychological thriller, a quest, a literary hoax, a dark comedy, and a work of cultural criticism. It is simultaneously a highly literary work and an absolute hoot. This powerful and extremely original novel is strongly recommended for all public and academic libraries.

From Booklist
This stunning first effort is destined for fast-track cult status. A photographer decides to create a film document of his family moving into a new home. The project runs smoothly until the interior dimensions of the house turn out to be larger than the exterior. Over time, a maze of passageways appear and disappear, perhaps inhabited by an unseen malevolent creature. Equipped with cameras, a team tries to explore the shifting labyrinth, but they are forced out after the expedition proves deadly. But what they have managed to film is a critical success, generating thousands of pages of analysis. Years later, a trunk of these documents fall into the hands of a young man after the curious death of a neighbor. He finds that the dimensions of his own life may not be as fixed as he once imagined, and that he might also be pursued by an unknown entity. This work is a kaleidoscopically layered and deconstructed H. P. Lovecraft-style horror story. It hums and resonates with wonder, dread, and insight.

Review
[H]is book is funny, moving, sexy, beautifully told, an elaborate engagement with the shape and meaning of narrative.
— The New York Times Book Review, Robert Kelly

"This demonically brilliant book is impossible to ignore, put down, or persuasively conclude reading. In fact, when you purchase your copy you may reach a certain page and find me there, reduced in size like Vincent Price in The Fly, still trapped in the web of its malicious, beautiful pages."
— Jonathan Lethem, author of Motherless Brooklyn

"An amazingly intricate and ambitious first novel — ten years in the making — that puts an engrossing new spin on the traditional haunted house tale…Danielewski skillfully manipulates the reader's expectations and fears, employing ingeniously skewed typography…The story's very ambiguity steadily feeds its mysteriousness and power, and Danielewski's mastery of post-modernist and cinema-derived rhetoric up the ante continuously, and stunningly. One of the most impressive excursions into the supernatural in many a year."
— Kirkus Reviews (starred)

"The novel is a surreal palimpsest of terror and erudition, surely destined for cult status….The story of the house is stitched together from disparate accounts, until the experience becomes somewhat like stumbling into Borges's Library of Babel…The horror story — is a tour de force."
–Publishers Weekly
I got a Barnes & Noble giftcard, which I immediately spent on Reading Like A Writer by Francine Prose and Raymond Carver's Where I'm Calling From. While I was there I also picked up some books by Mario Vargas Llosa. Specifically Conversations in the Cathedral. I will probably grab that this week, but all his stuff looked pretty amazing. Anyone ever read him?
I always stop by The Book Barn when home for some used books, where I got Flannery O'Connor's A Good Man Is Hard To Find (you can hear O'Connor read the title story here) and Paul Bowles' A Distant Episode. I don't think I can really have enough short story books by some of the best to have ever done it.
And then at some random store I picked up Working by Studs Terkel. For $3. I liked the premise of this. It was to just go out and talk to every day people about their every day jobs. It sounds boring, but I am sort of into every day people and every day life. And what is revealed by the people Terkel talks to is supposed to be pretty revealing.
All this brings me to my New Year's resolutions goals/ commitments. I'm not really into the resolution thing, but I wanted to make a few simple goals to try and stay conscious of and committed to over the next year. I know you have all been waiting, so without further ado…
Take a picture every day.
I may not post it directly on the blog, but I will try and upload one each day over at my Tumblr, or here.
Keep track of the books I read over throughout the year.
My sister asked me how many books I read a year, and I have no idea. Sad. I will try and keep this updated over at GoodReads.
Floss more.
Literally and figuratively.
Happy New Years.