For the next 358 days…
So, most years my New Year's resolution is to not make any resolutions. And not that I am breaking my tradition of non-tradition, but the end/start of a year does seem to wipe the slate clean and offer a chance to look back and forward.
This really all started when I saw this video a few weeks ago:
It got me to think that instead of watching all this fun and cool shit other people are doing, I should do more. Not that I don't already have a ton of fun in my life and do cool shit, but these people are pushing it; boundaries, themselves…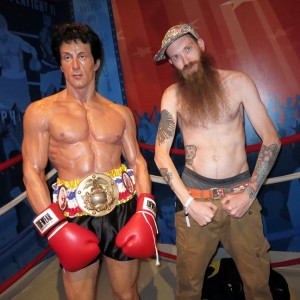 (Me and Sly at Madam Tussaud's in November for Red Bull's 30 Days in L.A.)
So I anointed 2015 to be a year of "fun and adventure." I am confident in my skills.
I figured, why stop there.
Here are the other things I would like to pay more (or less) attention to this year:

– Less television, more books
I do a good amount of reading. I want to do a great year of reading. I tend to just plant in front of the TV or the computer, but I want to read more. I think in the last month I have picked up around 20 books. Even if I just knocked off the 20 books I have bought so far in 2015, that would be awesome.
Also, I need to start making notes in the margins of books as I read.
– Career
I have things pretty good now as a part time adjunct at Temple University. But it is part time and there is a lot more I want to do. I finished off 2014 strong, with several interviews and meetings regarding this. Some developed into immediate freelance opportunities, with a few having long term potential. This year has also gotten off to a promising start and I am fortunate to be in a place where I can pick between a few things and some are still developing. It will be interesting to see what, how and where things go.
– Health
I am pre-diabetic. I need to address this better. I like my toes.

– Morning meditation
Fell off from this a little at the end of my busy year. I need to get back. Also, mom told me about the 5 Tibetan Rites, which I also want to start incorporating this year.
– Road trip
Making plans to do a 10 day road trip at the end of the summer. The route is looking like it might start in Arizona, hit the Grand Canyon, take Route 66 to Amarillo, Texas, shoot down to Marfa and then back up to Arizona. Pennies are being pinched, research is being conducted.
– Save more money/invest
I just started using Acorns. I'm at that age of having enough money to pay bills AND buy books/sneakers isn't enough. I have a few dollars, but not retirement money. Yet.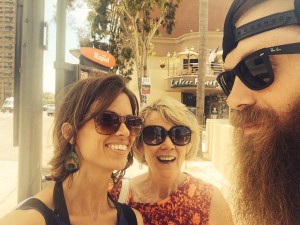 – See my fam more often
Mom lives in NY, sis lives in Los Angeles. I feel like a lot of people have died recently and as I get older too, it gets the head going thinking about how I want to spend time with people I love and that are important to me. Most of these people are here in Philly, but the two toward the top of the list aren't. I don't want to have regrets when it comes to this. This was also on my non-list last year and I did a better job, but there is room for improvement.
– Support independent more
Whatever it is. Artists, businesses, etc.
– See more local artists
I have access to almost any and all venues in the city. I could be seeing two or three shows a night. I don't. Sometimes I'm lazy. Other times I just don't feel like going.  I should. I will.
(Jeez, I'm realizing how many of these are related to getting older…)

– Hang out in my library more often
I kinda of designed the second bedroom to be a library of sorts. Lots of books, no clock, no TV, transistor radio, antique typewriters, art on the walls. I don't spend time here and I'm not sure why.
– TRFE
The secret project I am involved with and working on. This is going to be a crazy, killer year. I'm so excited about this. It is funny because it is happening at the perfect time. All the people involved are amazingly talented, have a tone of experience and all share the same vision. This is going to make some noise and be a force. #TRFE
– Update this more often.
Duh.