Au revoir Paris
Like I said yesterday, I have been remiss in not posting. It has been a little bit of a whirlwind and I haven't really had a chance to catch up here. But a Tuesday night in a hotel library in Houston, what else is there to do in this city?
So when we last left off dear friends, I was steadily knocking items off my Paris bucketlist. Well all that got fucked up early on the morning of the 24th. In the wee hours of the morning (aka: 10am…) on the 15th anniversary of me getting clean, I felt nudging in my back. Thinking it was my ex, I elbowed her off. (We set up the rules when we split: no "I love yous," no kissing, no cuddling and no effing. We actually respected the rules. Go figure.) So trying to push her off, I rolled over and was shocked to find my ex had slid out of bed. In her place my sponsor had secretly flown in from Philly that morning, took off his clothes, and slipped into bed, nudging me in the back. I was shocked.
(Let's take a little trip down memory lane… When I celebrated one year clean, there was a blizzard and the meeting that night was closed. At five years I went to a convention and my spons blew me off over a girl we affectionately refer to as The Condor. This has been the fuel for a decade of ribbing and giving my spons shit for blowing me off. When I had 10 years clean my best friend had arranged for some junkie trannies to come and strip at my party. When they arrived they were so tore up, he argued with them and had to pay them to leave before they even made it upstairs where my family and closest friends were eating. So for my fifteen years my sponsor's surprise extraordinary rendition was an almost redeeming move…)
Back to Paris. Spons on the scene fucked up all my plans, but I didn't mind. We started out eating croissants, hit a noon meeting, hung out, hit another meeting. Each day turned into more of that. I didn't mind. My one regret about arranging to come back was that I never had a chance to kick it in Paris, a place he had lived for 5 years in early recovery. I had the fortune of having one of my sponsees visit but was sad I couldn't run around Paris with him. Once he got there though, thats what we did. Lots of coffee, meetings, walking and talking. I live that good life, fuck what you heard…
On Saturday night, I got duped again. I was set up again. I was told we were going to a sponsee fam meeting at Francois and Aileene's and when I walked in I was shocked to see about 25 people and a huge food spread. Jill had put together a surprise 15 year anniversary/ going away story. I was touched. Really. Gillian was there with her husband, a few Oliviers, my man Juan, OCD, the Dok, Aziza, and of course Billy, Pierre and Benedict. I was moved. It was pretty epic.
Twice in three days I was duped. Nice work guys.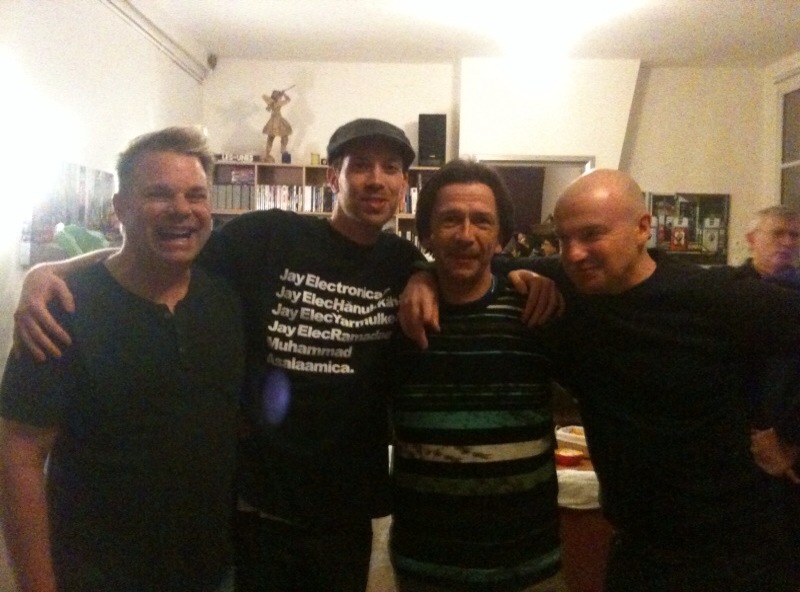 I felt undeserving of the night and the time and energy that was put into it.
Huge shoutout to Francois and Aileen for hosting. I had never met Aileen and to open her beautiful home to a bunch of chuckleheads, keeping their kids up way past their bedtime, was so sweet.
Huge shoutout to the ladies for chefing up some marvelous shit.
Thanks to everyone for coming.
And the extrahugestbiggest shout and love to Jill. How many exes do you know, that 3 weeks after a split is coordinating an international surprise party with international guests, under the nose of her ex-boyfriend that she is living with? And pulls it off? I know people are going to assume she was just trying to make up/get back together. Wrong. I can't imagine how much and what it took to make that happen. I have never had a relationship transform so quickly and effortless into a friendship. Thanks Jilly. Love you.
The next morning Billy, Jilly, Pierre, Benedict and I woke up, rented a car and drove to Normandy to storm the beaches. First we stopped in a little town for an amazing lunch before getting to the place it all went down. It's crazy to stand in that spot, see the floating docks, tanks, German bunkers… That night, we stayed on Normandy at Benedict's parents beautiful house.
Back to Paris the next day where the packing began. Monday I hit my Paris homegroup for the last time, and celebrated one final meal after. At McDonalds. Appropriate.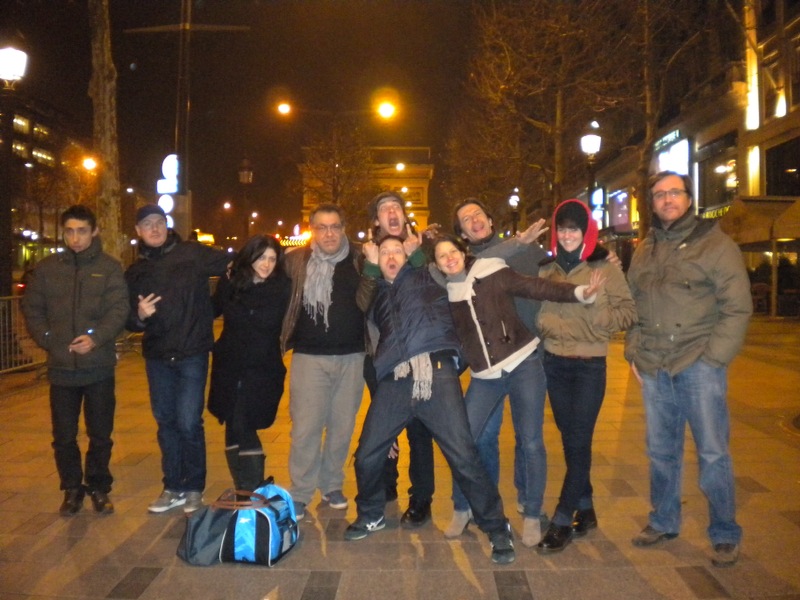 So it was coming to a close. My nine months living in Paris was about over.
But I wasn't out just yet.
I woke up the morning I was leaving and went to the street to catch a cab to the Roissybus. Not sure what I was thinking as I tried to catch a cab at 8am. #fail Eventually a cab was called. Since I was leaving I only had a limited amount of Euros left on me. I get in the cab and immediately hit Traffic. Thick traffic. Traffic not loving traffic. I was about 4 blocks away and the meter read 14 Euro. At 8 blocks away I was at 18 and I only had 25 on me. I was bugging. I had left my cellphone because I wouldn't need it. I had no one to call. The cabs don't take credit cards. I started trying to think what I had that I could barter with. I thought at 20 Euros I would have to start haggling… Luckily traffic broke, I had an idea how close we were and he pulled up to the bus. 23 Euro. I naively thought I was home free.
I went in CDG and before I even got to the ticketing, an American Airlines agent was talking to each person, looking over their passport. I got sent to an agent and I knew it was trouble. Older, shorter, Indian woman. Not smiling. She asked for my passport. I gave it to her and the first thing she noticed was that I hadn't signed it. My fault. She was not happy. She asked how I got to the airport that morning and wanted receipts for the taxi and/or the bus. Luckily I happened to have my bus receipt. She flipped through and looked for and asked when I arrived. July I told her. She asked why I was here so long and I began explaining how I was travelling. I was on a 90 day visa, but had stayed 9 months. I told her I also went to Spain and Switzerland and she began grilling me about those trips. How I traveled, who with, did I have proof. She commented on not having any stamps. I played dumb American and was telling her how I tried to get stamped but because it was all within the EU, she should know that there really aren't borders or border control. Still, she was not happy. She asked how I afforded the trip. I told her I had saved for a year. Then she looked at my bags and asked if it was all mine. The truth was, it wasn't. Since the ex was staying and going to travel, I offered to take a bag back with me. Since things weren't going well with the agent, I realized the chances of her going though them were substantial. She had asked if I was traveling alone and I told her I was. So here I was having to explain if I was alone, why I had a bag of female clothing. If it was my girlfriend's stuff, where was she? If she wasn't my girlfriend, why did I have her stuff? I thought it was best if I stuck with the truth so I told her we had broken up, were on good terms, she was still travelling so I had offered to bring her winter stuff back to the US. She wasn't buying it and had to talk to a supervisor. Luckily her supervisor didn't have the same stick up his ass and sort of looked at her like, "What's the problem?" Meanwhile I am left thinking about how the bag was borrowed and I hadn't packed it. I had gone through the pockets quickly to make sure there was nothing illegal, but I hadn't done a thorough search. (I got in a lot of trouble one time going from France to England via the Chunnel. I had a pocketknife in my checked bag, but via rail, it's not really checked. I was detained and threatened and they tried all these scare tactics on me before telling me I could either go to jail or surrender the knife. I surrendered.) After about 30 minutes she signed off on whatever I needed and I continued.
Thank fucking god.
The rest of the trip was relatively uneventful. I sailed through the rest of the process of exiting France. (Crazy because what were they really going to do? Kick me out of the country? I was trying to leave… Whatever.) Of course when I landed in Chicago I had to clear customs, and again I kept getting flagged, interviewed and searched. I felt better there because while I had overstayed in France, I had nothing to fear or hide back here. Still, it's never fun.
Chi to Philly was simple. Mike picked me up and at 10:30pm, twenty hours after I left my flat in Paris, I was home. I ate, took an hourlong shower and crashed.
It's a few weeks later and while I am glad I am back in Philly, I miss Paris. I have found that in some ways it's like a painful break-up, where I got dumped. Any time I have run into anything Paris related, I avoid it. Pictures, things on TV, etc. It's a weird kind of painful to think that for a while that was a part of my life, where and how I lived, but that's over. I can't imagine another opportunity to do what I did. It was beyond dreams, but it's behind me. It certainly changed and affected me, probably in more ways than I am aware, but the fact that it's over, saddens me. I will always have a connection to that city, and I am forever grateful.
I had come with a backpack with just shorts and tee shirts, unsure if I was to be there a week or a month. No idea it would turn to nine amazing months. I drove around France, visited Spain and Switzerland, had a bunch of friends come (Ernest and Kelly, Matt Millz, Rob, Billy), wrote a novel, ate amazing food, drank endless amounts of coffee, learned a little French, read a ton of books, heard great music, met some lifelong friends, tried to be of service to addicts and the fellowship, saw some amazing art, relaxed, immersed myself in another culture, way of life, way of thinking. I have no regrets. It was an opportunity of a lifetime and I walk away wanting to change nothing. People dream of visiting Paris and for 9 months, it was my home.