Jean-Luc
So when we got to Marseilles, we were all a little worn out and spent from the ride and felt like we deserved a nice meal. We had had some good ones, but no out of this world experience that we were all looking for.
After Ernest's pick/pig suckling fiasco back in Paris, he was looking for redemption. He got it when he picked Le Cafe des Arts. We ended up eating there two nights in a row.
The first night as we sauntered down th street looking for a place to eat, we were at first invited in by a man in a white jacket who turned out to be the chef. As we placed our order, we were situated near the open grill area where we could actually see him preparing the food. He was clearly an intriguing sort of character, so we just started throwing all these things out there about him and his life. And I actually started jotting things down.
First things first, we guessed his name was Jean-Luc.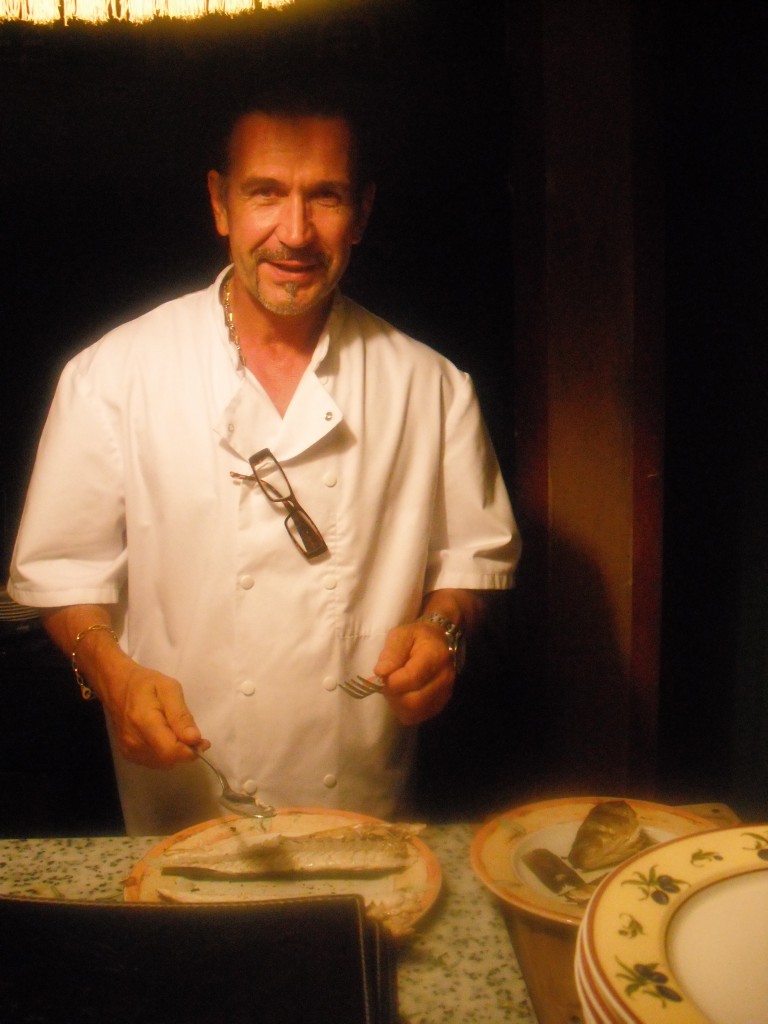 Here's the rest:
has wife
2 mistresses
one older (spanish/italian)
one younger (blonde, french)
3 sons
1 gay, mongrel brother
Porshe Cayenne SUV
Restaurant loft
big cock
talks on cell while cooking
leopard print glasses
CK briefs/g-string underwear
CK loafers
spotless white cooking jacket
gambling debts (ponies)
dogs:
toy yorkie and/or rhodesian ridgebacks (whose ridge compliments his ponytail)
into archery. big time. expensive bows.
mixes drinks
smokes $45 cadrones
drinks red wine & johnny walker blue
could eff your girl and not only would you not be mad, but you would understand
owns small but nice boat with sail
country home with white stallions
gardens/grows his own herbs
owns a pagan approved Harley-Davidson
one son is an addict
painting
it's his true passion… but couldn't make living from. Turned to cooking as an artisian expression
his food tastes like fire
raised on a farm
no culinary school. art school?
no tshirt. bare breasted.
one true love is his older mistress… but he has loved them all.
retires to Italy
dies in his mid 80's in excellent shape and health
Jean-Luc chops his own firewood
did all the paintings in the restaurant
Jean-Luc allows photos (but not with his glasses on)
has one illegitimate daughter
plays spanish guitar
collects old books
collects religious art
addict son has afrikan girlfriend
has a woman in Corsica he takes his boat to see
makes son wash his Porsche daily
grinds his own ice
wife has same leopard print glasses
stomps his own grapes for wine
The man.
The myth.
The legend.