Paris. So far…
Way overdue.
Sue me.
I got to Paris about two weeks ago. Clearly I have acclimated to the schedule I keep back home in the US. I am up all night, going to bed around 4 or 5 am, and since I don't have a pesky thing called a job, I sleep until 2 in the afternoon. Can you blame me? Usually there is breakfast around 4. That consists of either going out to a cafe (which can be difficult in and of itself. Apparently they aren't on my american schedule and stop serving their menu around 2 or 3 not to offer food again until 7ish…) or going to the store for eggs and cheese and the patissiere or lingerie for a baguette. From there we head out. Our schedule seems to be so damn relaxed if we have one thing to do on the list, that typical eats up our day. Let's say we are going to the American Church to look for job and/or flats to rent, that's our day. We may do that, walk around, figure out dinner and just kind of fall through the rest of the day. It's strange because we get up and out so late (except today where I set my alarm for the second time and forced myself to get up and out to a cafe to do some writing, at 11am…) and with the fact it doesn't get dark until 11pm, the day can be fairly deceptive. But with two weeks gone by I thought an update as far as what my days have consisted of were in order. I remember being on a family trip years ago and seeing my sister take copious notes. I laughed a little at her, out loud and in my head, and as usual with my family now I realize how right she was. I have been carrying a moleskin with me and jot down little notes throughout my day. So from those hints and my recollection, here's a little rundown and some pics so far.
7/12/10
Landed in Paris. Jill had told me if I brought a box fan we could call the last 2 months even. The woman at Jet Airways looked a little sideways at me as I checked it as a piece of luggage, but oh well. I had to change airlines in Brussels before arriving in Paris. Baggage claim was my moment of truth. My oversized backpack came around first so I thought my chances might be good after all. After 20 minutes and the passengers thinning, when the sign read "Delivery Complete" I thought some stinky hot Parisian had gotten their grubby Eiffel Tower paws on my fan. Of course they would of. I would of done the same if I lived here with no air conditioning or fans as hot as Jill told me it had been.
I found the place to file the report of missing baggage and as I stood in line it occurred to me. A.) I don't speak a word of French (save for "Voulez Vous A Chez Avec Moi," which I later learned was actually written by someone from Belgium, which Parisians disdain) B.) I don't have an address to give them should they find it to deliver to C.) I don't have a phone number for them to call should they find it D.) I am thinking that the chances of one of the pictures on the little card for all the different pieces of luggage that people who don't speak the language can point to is not likely to have a picture of a box fan. Wonderful.
I am supposed to meet Jill outside the baggage claim, and with no other way of connecting with her I wonder if I am wasting my time and about to miss connecting with Jill. But I decide that the act of trying to fix the last two months trumps almost anything else so I decide to at least try.
And that's when the man from the airline wheeled up a cart with my fan on it.
I met Jill, went back to the flat.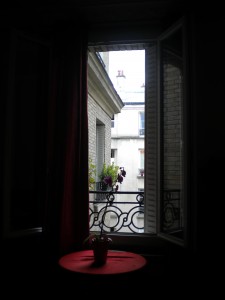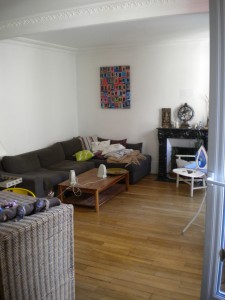 She plugged the fan in.
In under 30 seconds the motor burned out.
At least I did my part.
7/13/10
Breakfast at a cafe.
Went to the pedestrian bridge over the Seine.
Walked around and bumped into a street festival in the third.
7/14/10
Bastille Day.
Rainrainrain.
Went to Trocadero and Eiffel Tower with Randy and his girlfriend to watch the fireworks.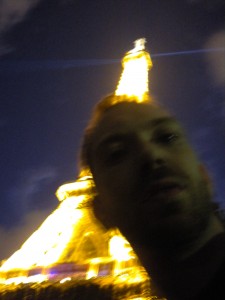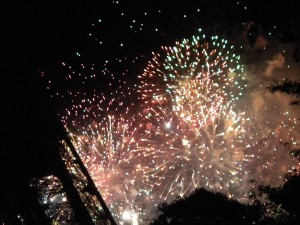 Start to realize how odd it is not to be checking phone every 5 minutes. For calls, txts, messages, email, Around Me, Facebook…
Also strange not to feel constantly threatened or on edge or challenged here.
Also start to realize how goddamn stylish the people are here. Not in a high falootin' Athens kind of way, but damn.
7/15/10
Lazy day.
Slept until 4pm.
Crepes at 1am.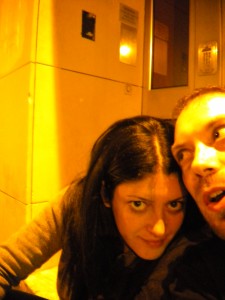 Realize that nights are pretty quiet, with the occasional inebriated laughter.
Cars don't ride with windows down and radio on blast.
People seem to live more than exist here.
No ratrace.
7/16/10
Lazy day.
Read a lot. Started reading Hunter Thompson's "The Great Shark Hunt." Excellent.
7/17/10
Brunch at Paris' version of Sabrina's.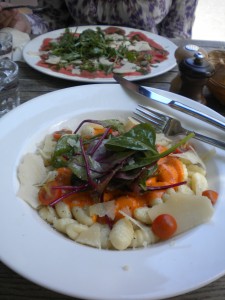 Watched bums taking pics of each other on their cellphones.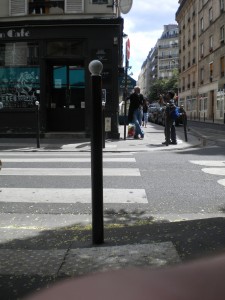 Weather is great.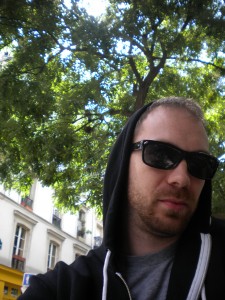 Went to American Church for job/flat hunt.
Went to outdoor film festival, Cinema En Plein Air to see The Wild Ones.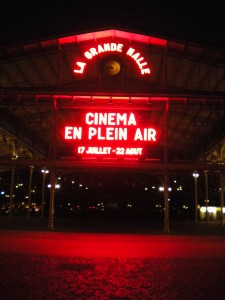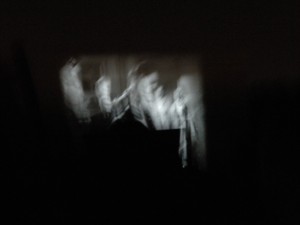 7/18/10
Hung out with Randy.
Visited the basement of the Socialist Party's Paris headquarters. Strange.
Walked around the Jewish section of the city.
Falafels.
Je suis Daltonian. Colorblind.
7/19/10
Met up with Ed's friend Chris and his girlfriend Kelly for lunch in the 5th.
Good times and good convo.
Walked to Jardon du Luxembourg.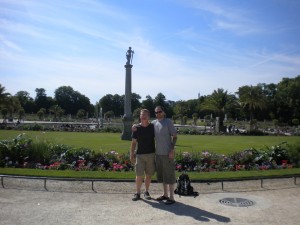 Looked for Billy's fountain but concert taking place.
Watched amazingly awkward Parisian runners. They are amazingly ungraceful and look like they are in a state or perpetual tripping.
Cooked steak and potatoes au gratin with a baguette and salt butter for dinner.
7/20/10
Made breakfast and packed lunch.
Headed for the gardens outside of the Louvre for the day. They also had a fair going on in the garden too.
Read, practiced French, talked.
Started trying to make plans for a short trip. Where and when are the questions.
7/21/10
More trip planning. May head to London to crash with George.
Did some shopping.
Dinner with Pierre and Benedikt.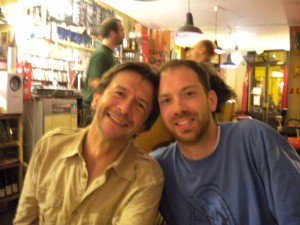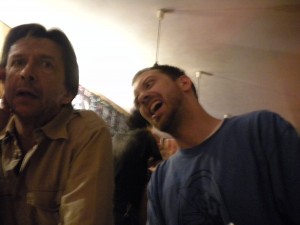 7/22/10
More shopping in the hip hop & hookers section of the city. On a sneaker and shorts hunt.
Went to movies and saw Inception. Really. Fucking. Good.
7/23/10
The sneaker/short hunt continues. Maybe a bag too?
Cooler. Rainy.

More attempted trip planning.
More reading/realizing how great HST is…
And today I have woken up to get some cafe crem at a cafe, bang away on this keyboard.
We are supposed to be going to a travel agent, followed by some more shopping, etc.
Here's even more pictures which I also update regularly and has more/all pics:
Pictures
I suppose that it sounds like we haven't done much. But we have.
Relaxed, taking it easy, taking in the way of life here. There's plenty of time to do tourist and museum stuff, so we didn't want to go at a breakneck pace as if we are here for a week or two. A lot of our days are spent walking around in Paris. How fucking great is that. There are parks everywhere, cafes every where, something extravagant everywhere, something that is a small detail everywhere. We have watched almost three seasons of Breaking Bad since I have arrived, but there is also a ton of taking in the city too. It feels like a perfect balance.
This is an amazing city. The last time I was here I was pretty banged up. But there is so much to see and do. So easy to people watch.
Hard not to want to move here…
I will post and update about the trip more regularly.