We will always have Bonneville
So I am not as great keeping the blog updated while away as I would have expected/hoped/liked.
One reason is that there is a ton of relaxing downtime and I don't want to A.) change that, and B.)be someone that posts/blogs/tweets annoying shit like "sitting at coffee shop drinking café crème" or "Slept in, went to store and got stuff for breakfast, made breakfast, went to cafe, read, fucked around online, went to the oldest bookstore on the continent across from the Louvre, then went to Colette. Came home, made dinner, went to cafe to read book I bought, came home and watched a few episodes of The Wire."
But, I did recently get back from a 10 day road trip with friends through the south of France and had an amazing time. Plus, once my mom gives me shit saying she checks and is willing to read my blog -when the woman hasn't read one issue of my magazine because of "the language Christopher. The language…"- it is time to do a little recap.
Having said all that, I am going to spare everyone the play by play of the trip. You will have to wait for the book. (And I know people have Billy has a short attention span for long blogposts.) I will try to keep it to a summary and highlights.
So the rough idea is two of our friends got married 8 months ago, they planned a trip to France, wanted to crash with us in Paris, and we wanted to or were invited to crash their roadtrip. Their style of travel meshes pretty well with ours: have a rough idea and figure it out as you go. The original idea was to make it to Barcelona, Spain, but it would of required a breakneck pace and I don't think that suited anyone. So instead a car was rented for 10 days and Marseilles became the furthest south destination. Between here (Paris) and there (Marseilles) we stopped in Lyon, Anemasse/Geneva and Chamonix/Mont Blanc in that order.
On our way to Lyon we found the most amazing boulangerie in the world (in Bonneville), that made the best pizza in the world.
Stopped at a street fair and continued on to Lyon, where we stayed in the palacial Hotel Helder. Rooms were not pricey, which explains why they apparently didn't have any disinfectant, odor eater, sanitizer or cleaning services in their budget. One of those things you thug your way through at the time knowing you will look back and laugh. Or at least 3 of the 4 of us will.
Had an amazing lunch the following day.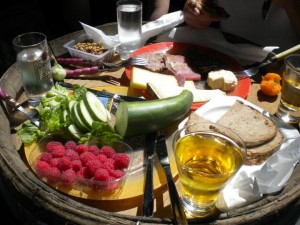 That night for dinner I ate cow cheek and pig intestine. Willingly. And they were both pretty good.
From there to Anemasse, which is right over the border from Geneva, Switzerland. That city is fucking balleriffic. On one corner there was a Fendi, Louis Vuitton, Cartier, Phillpe Patek. I counted 5 Ferraris, 1 Maybach and 1 Lambo.
From there we headed to Chamonix. Crazy. Situated in the French Alps and at the base of Mont Blanc, it was like waking up on a movie set. The only thing comparable as the scenery in New Zealand. It was crajee.
First thing we did when we got there was book whitewater river rafting and headed up to the ice cave. It is a man made cave, drilled into a glacier. It was insane.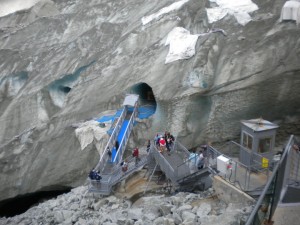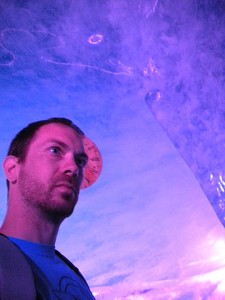 Spent a few days there and among other things, broke my 15 consecutive year string of not owning a pair of Nikes. But how could I pass these up?
One day we took 2 gondolas up to the top for the view. Amazing.
The weather held up until the day we left, and our scheduled whitewater rafting trip. Luckily, once you are in a wetsuit, with booties, and a helmet and a life preserver, rafting down a river of glacier water, a little drizzle doesn't really matter.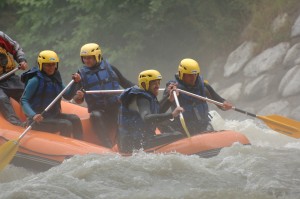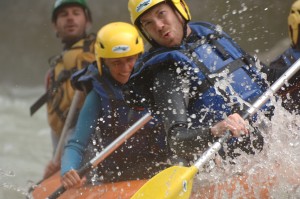 Next and last was Marseilles. We drove in and like most of the cities we encountered problems with directions. Then again, you figure 4 people driving in a foreign country who can't speak the language or read the signs and don;t have maps but have taken pics of google directions on their digi cameras to try and read/navigate off of, are certainly in for some mis-steps.
As a result, our initial impressions of Marseilles is that of driving into Beruit. Shit was fuuuuuuuuuuuuuuuuuuuuuuuuuuuuuuuuuucked up. We knew it was the heroin capitol of Europe, but goddamn. Judging by looks, it was as if graffiti was not only legal but encouraged. (In service trains with burners = yes!)
We weren't even sure if we would stay. The room we booked the night before looked to be the nicest of the trip, but it was initially looking dismal. We eventually found our hotel and despite the reception area being straight out of One Flew Over the Cuckoos Nest (complete with dudes nodded out and drooling, woman with buttcheeks that hung out of her shorts, and the dude with a stuffed animal stuck down the front of but sticking out of his pants) the hotel was really nice. And our initial impression of the city did a 180.
We dined the first night at a phenomenally amazing restaurant who had a chef that, well, deserves his own blogpost.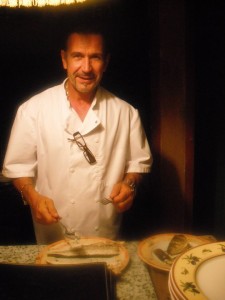 The next day we hit the beach. We went from the mountains of the French Alps one day to the beaches of the French Riviera the next. Baller.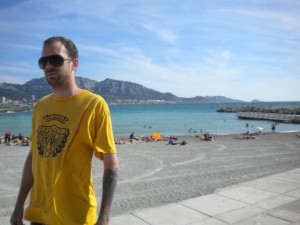 Then we headed home, but not before going out of our way to stop at the same boulangerie in Bonneville. They didn't have the same pizza, but they had pizza bread that was the second best pizza we ever ate.
There is a ton of stuff I didn't post, some of the details, but I wanted to drop some of the highlights. We put 1600 kilometers/klicks on the rental car. Ernest and Kelly were great road dogs and we had a blast and tons of laughs and shit to remember. It had to come to an end, but we will always have Bonneville.
Top 5 trip highlights (not in any order):
Jean-Luc
pizza bread/vanilla eclairs from the Bonneville boulangerie
The ice cave in Chamonix
The beach in Marseilles
Whitewater rafting in Chamonix